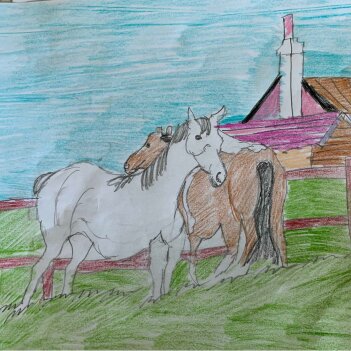 God's Love Through Horses
Held by
Shawn P
Supporting Nanaimo
Its the year 1790 in Great Britain in the dawn of the new century known to many historians today as the Industrial Revolution which has brought in many contraptions we still use today such as sewing machines, steam-engines and the tractor.
With the introduction of the Tractor by American Inventor John Frolich in 1892 brought many lives with it, including the many horses were no more plowing in the fields, carrying people in carriages, helping during combat due to society have the luxury of automobiles, airplanes, steamships and of course the tractor, bringing people across the nation quicker and harvesting crops faster than any number of horses could ever do.
Even though the tractor nicknamed the Iron Horse to many as it wiped out hundreds of horses from society, they are still used in many ways today such as entertainment through rodeos and pleasure riding. Though have you ever wondered what ever happened to all those horses that were considered unfit for rodeos or became very ill or when they retire? The shocking truth is overseas shipments of horses for human consumption.
Creation is a wonderful masterpiece from God, reflecting his wonderful love for all of mankind to enjoy and to remind us of his unconditional love on the cross for all to receive Salvation.
Welcome to the very first episode of Exploring Creation with Shawn where we are going to explore the many challenges horses face, the ways God is showing his love through them, how we are to protect them.
Going back a few centuries earlier then the Industrial Revolution is the year 1665 when King Louis XIV sent the very first of many batches of horses from his royal stables in France to the many once colonies such as the one where over 36.99 million people call Canada home today according to census data from 2021.
Even though of the harsh conditions in New France, which is now known as the Province of Quebec, the horses pushed through with their plowing the fields, pulling people in carriages for the early Canadian Settlers which the horses have now evolved into what we now call the Canadian Horse!
Becoming nicknamed by many as The Little Iron Horse for its quite strong abilities even though being pony size and not needing much forage.
It wasnt until May of the year 2002 when the Canadian Parliament have officially recognized the Canadian Horse or if you are French Le Cheval de Canadian as the official horse of Canada alongside the many other well-known symbols of Canada such as the beaver.
Accredited in another way in society is bringing their strong genetics into other common horse breeds such as the American Standardbred, Tennessee Walking Horse and the Cuban Trotter for its very graceful trot which I all learnt in an amazing research project for my 4-H speech way back in Grade 10!
Its so amazing how one little breed of horses have influenced and helped form the great country of Canada, though we must remember that there are many other breeds of horses as well that are facing the many challenges coming right up on Exploring Creation with Shawn.
Many people around the world consider horse meat as a delicacy which includes countries of Mexico, France and Japan.
Which Canada is one of the biggest suppliers of horses which many horses are flown out of Calgary every single week which totals around 40,000 horses since the year 2013.
According to data from the Ministry of Agriculture & Agri-Food of Canada, from September 2022 shows 1,891 horses were exported for slaughter and 2,829 horses were exported from United States into Canada.
Flown from many places including Calgary International Airport in the province of Alberta where the horses are cramped into tight cargo boxes for over 72 hours which is violating the no 72 hour starvation policy set by the government.
The many horses include the poor little pregnant mares even with their baby foals born or not and the so called misfit horses that have no use in the horse racing or other industries as follows:
Horse estrogen are key ingredients in many cosmetic products and children candy such as Gummy Bears.
Pregnant Mares milk is being squeezed into the product known as Premarin which is used in human pregnancies.
Many of the horse industry use antibiotics and other medications such as Phenylbutazone known to many in the horse industry as Bute which has been linked to causing miscarriages, cancer and bone marrow degrading.
Which is quite shocking and there is no safe level of consumption according to scientific data.
Recently saw on the Facebook Group: Canadians Against Horse Abuse Connection about a quite young and attractive former police-horse who was sent to the auction, and it would be quite sad if it went to the meat buyers if no one bids high enough.
Not to mention many of the lands that where many wild horses roam in the States are being rounded up by the Federal Bureau Land Management by helicopters, wow that is one terrifying way of doing it.
Its quite unbelievable these inhumane practices have been going on for so long under the radar in many places around the world such as in Canada and the States. It wasnt until 2011 that Globe and Mail released an article about shocking truths of the Canadian Horse Welfare Industry.
Which still hasnt had major news coverage to Canadians through major television channels though there was one brief segment about it covered on the nightly show called Global National few months ago before writing this podcast.
Canadians who are aware of these issues have signed 2 petitions to Parliament though none of those bills have been passed officially and the only regulation in place is the no starvation 72-hour rule when transporting horses.
Even though the Liberal Government of Canada promised in their 2021 re-election campaign that they will officially permanently ban the live horse exportation for slaughter, nothing has been passed as of today.
Quite shocking indeed though we must remember that through the bad comes great things as we are going to explore next the many ways God is using horses to transform many lives around the world coming up next on Exploring Creation with Shawn.
Lets begin with a tale about a Wild Mustang named Cobra who was rounded up likely by the BLM by helicopter and was considered by many to be unadoptable.
Marsha Hartford-Sapp adopted Cobra way back in 2010 and it was well worth the unconditional love she gave to the horse as they won many championships around the world.
Morgan Wagner is another wonderful person which in this case has been taking care of Endo the Blind for over 15 years, they have been stunning the world ever since she got permission from her grandmother to pick any horse she wanted.
Many successes from Endo the Blind includes winning 3 Guiness World Records and getting the highest free jump over a pole by a blind horse.
Another wonderful way God is transforming lives around the world is through therapy organizations such as Cowichan Therapeutic Riding Association located in Duncan on beautiful Vancouver Island, Canada.
Daelen was born with a C-Section and was considered never being able to be independent though with years of therapeutic work with horses at the CTRA, he is now able to work independently and enjoy what life has to offer.
Annika was diagnosed with PTSD which stands for Post-Traumatic Stress Disorder which caused her to have very bad time sleeping though just like Daelen, therapeutic work with the horses have helped her overcame her fear and she is able to sleep peacefully now.
Quinn from Medicine Hat, Alberta is young girl who was having a hard time speaking, quite shy though with hippotherapy through the horses, she has been getting better and clearer in her speaking which is amazing.
After reseraching through the internet, I was able to find a wonderful Faith-Based Equine Organization in Ohio called Unbridled started by Elaine Davis way back in 2005.
Their mission is to bring people away from unhealthy habits such as addition through drugs/alcohol and bringing them closer to their God given mission as we read in Jeremiah 29:11-13.
It reads For I know the plans I have for you declares the Lord, plans to prosper you and not to harm you, plans to give you a hope and a future. Then you will come and seek me, I will listen to you. When you seek me with all your heart you will find me
As well it would be quite fitting to cite a verse from Paul of Tarsus who was once the most feared Christian persecutors of his time, though with a miracle, he found Grace and tells us through Romans 8:28: For we know that all things work together for the good of those who love God and are called to his purpose.
Thats so amazing people are using faith and horses to bring people together and lets now hear about my personal involvement with advocating for horses.
Over the past two years I have been helping with a local horse rescue also based in Duncan called Humanity for Horses Foundation with their website and I can tell the community really cares about the horses through their financial donations, volunteering their time and seeing how much the horses have grown over the months, getting stronger and more adorable.
Lets take a listen to Rebecca Sanesh the founder of the rescue in 2015 and two of their volunteers featured on Chek News about inspiring Island Woman on March 16th, 2023.
https://www.cheknews.ca/videos/6413ba31df3a670001607a12/their-lives-arent-disposable-duncan-woman-committed-to-saving-unwanted-horses-from-slaughter?d=n&mibextid=uc01c0
Continuing with our podcast, I have signed the two petitions sent into Parliament and have written a few letters to a few governmental members about the issue.
If you have listened this far, it would be great if you can share this podcast with others and write a letter to your local Member of Parliament to collaborate with their Federal Counterparts into the issue.
To push forward with their promise mandate of ending Exportation of Horses for Human consumption, funding into organizations such as Cowichan Therapeutic Riding Association and rescues such as Humanity for Horses Foundation to protect and share the joy of horses to society. To be able to transform lives, inspire others to adopt horses, raise up children for the next society to enjoy and to watch how beautiful Gods creation is.
Take Genesis 1:26 for example, as it shows God made everything good though he trusts us with his world to take care of all his creation.
As the saying goes, if you cant adopt, foster, if you cant foster, volunteer, if you cant volunteer, donate, if you cant donate ,share rescues such as Humanity for Horses Foundation by word of mouth or social which you can learn more about at humanityforhorses.com.
Its so amazing God planned out all of these things years even before I was born that I would be amazing at technology, being able to find a great organization to build their website and its really inspired me to do more for the community!
Before wrapping up, I would love to share two of my favorite horse moves even though they are fictional, they are very inspiring about how God is always turning our rough life into one that is not only more amazing but the right path back into faith.
Healed by Grace is a two-part movie series about an teen-age girl who was a dancer though with a car accident, she was referred to an horse therapy organization, which not only did her leg heal but she found her true calling in life which is to work with the horses to inspire many others.
Spirit Riders is about another one about a teen-age girl who got rounded into a mess with drugs and alcohol. It was either prison time or the whole summer at a horse therapy camp.
Which not only brought her into something that she would really enjoy which is having that special connection for the horses and helping save the farm being sold as well.
There are many other great films and true stories such as another movie I found out during my research, though I have not watched, its called Camp Harlow about a bully that finally got her wake up call during the camp which is an actual organization in Oregon.
There is something special God has put into the horse of the world to inspire us, motivate us that anything is possible and For we know that all things work together for the good for those who love God and are called to his Purpose (Romans 8:28) and He has made everything beautiful in his time. (Ecclesiastes 3:11).
A moment of silence as we remember the many forgotten horses through combat or through being exported for human consumption.
We are not sure when the trend of horse-consumption was made into practice but likely was after World War I and World War II as many of the surviving horses were sent to the French to be butchered for human/dog consumption or working in neighbouring farms.
Estimated over 484,143 horses in WWI and around 700,000 in the second World War plus double the number of humans killed in the Civil War in America.
The birth of a new horse or anything in Gods creation is incredibly special, unique, wonderful, and even then, pregnant mares are being milked to produce Premarin, plus many other pregnant mares are being sent to be consumed as well. It seems with the recent legislation to allow gender confusion, abortion; society is not focussing on the right priorities such as saving lives as we are "fearfully and wonderfully made" (Psalms 139;14) and we all special to God. He has a special plan for us as written in Jeremiah 29:11-13.
Thank you for listening to how even though we have mistreated the horses, that God still loves us and is using them everyday to transform the lives of many such as Daelen, Annika from CTRA, Elaine Davis at the Unbridled Faith Based Equine Therapy organization and ways you can support horse rescues.
How the Lord brought me to a wonderful organization to engage with my technology skills and passion for horses to create a wonderful website for them which you can learn more about humanityforhorses.com
Most importantly we are reminded through his wonderful creation such as of the horse, he is the maker of the heavens and the earth as described in Job 39:19-25.
If you read through the earlier chapters of 37 until you reach the end of 39 you will realize that God was saying that you were not there when he laid foundation for the earth, you arent the one that commands the thunder to strike or when the rain to pour, you arent the one that clothes on the back of a horse its mane, only God can control all things and create life.
With the use of artificial intelligence through Bing, I was able to get the following response which really made me fully understand the context even more:
God has a bigger plan for all of us, means that God knows what is best for us and what will make us happy in the long run. God created us and loves us and wants us to be with him forever. God also has a plan for the world and how he will save it from sin and evil. Gods plan is not always easy to understand or accept, because we have limited knowledge and vision. Sometimes we may face challenges, difficulties, or sufferings that seem unfair or unnecessary. But God has a purpose for everything he allows or does in our lives. He wants to teach us, grow us, and bless us through our experiences. He also wants to use us to help others and to share his love and message with them.
Paul is a wonderful person that has been quoted many times during our podcast, I would love to read another one to you, its from Romans 3:23-24:
For all have sinned and fall short of the glory of God, and all are justified freely by his grace through the redemption that came by Christ Jesus.
Cross-referencing back to John 3:16: For God so loved the world, He gave his one and only Son that whoever believes in him will not perish but have eternal life.
Lets dive into another wonderful verse from Psalms 20:7-8 which tells us that many will put their faith into earthly things or worldly pleasures such as in horses or chariots, but as we look up into the hills, we are reminded that our help comes from the Lord, the maker of heaven and earth. He will not let our foot slip and its by Grace we are saved, not through works as written by Paul quoted a few moments ago.
Anything is possible through Christ who strengthens me, and everything will be fulfilled in his time according to Philippians 4:13 and 2 Corinthians 6:2.
Because he lives, we can face tomorrow, and life is worth living for. And we will exchange it one day for a crown.
Really appreciate you taking the time to reading my script for my school project about his wonderful love and Remember the Goal from 1 Cori 10:31 that in whatever we do, its all for his glory and thats another inspiring movie you should watch.
__________________________________________________________________________________
Thank you to many sponsors that help BC SPCA contiune their wonderful misson to "transform the lives of vulnerable animals!"
And of course, all of you that are contributing to the many fundraisers in the 2023 #Lock-In For Love Challenge!!
God bless and have a wonderful rest of your year spreading his love whever you go!
Shawn