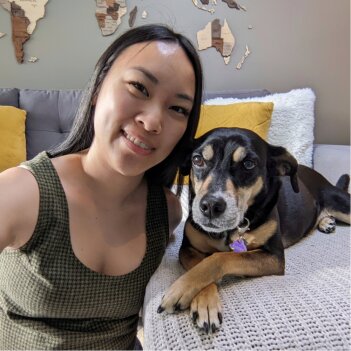 Jumps for Pups
Held by
Cicy Guimond
Supporting Areas of Greatest Need
Please join me in saving animals in need
A kind and compassionate person like you understands that animals deserve all the love in the world. Sadly some of them are neglected or abused instead.
As some of you may know, I started volunteering with the BC SPCA last fall. It has been my pleasure to walk, play with, and rub the bellies of many adoptable dogs. I have seen firsthand how the staff and volunteers strive to protect and enhance the quality of life for animals, and set them up for success in their forever homes.
2023 will mark my 9th annual fundraiser for the BC SPCA. While I wont be in town for the #LockIn4Love finale on June 17, Im hoping to encourage donations by pledging to do one jumping jack for each dollar donated. I will do my best to do each donation in one go - so a single $100 donation would mean I do 100 jumping jacks in a row!
Please help me in my mission to bring love and safety to vulnerable animals in B.C. Consider supporting my Lock-In for Love fundraiser for the BC SPCA. Whatever amount you are comfortable with, having you by my side in this effort means so so much.
Your thoughtful donation funds rescue, shelter, medical care and more, bringing joy to those animals who need it most.
To donate, please click on the 'Donate' button or call 1-855-622-7722 and mention my Lock-In for Love page.